Gourmet Burger Parties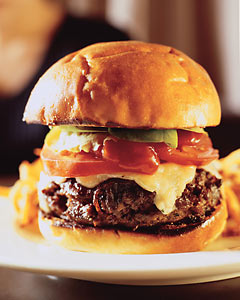 -gourmet burgers but not at gourmet prices as low as $19.50 per person, cooked on site!
Are you interested in a great party with a unique theme? Guests are used to having the same old menu at outdoor parties, both at your home and at your company. Our concept is simple enough.
1st - Choose either a fresh ground 1/3 lb angus beef burger, a fresh ground turkey burger, a chicken breast, or a vegetarian burger.
2nd - Our Chef gives it to you right off the grill with one of a variety of cheeses: Cheddar, Pepper Jack, Swiss, or American
3rd- Pick a fresh baked bun: Wheat, Potato, Sesame or Brioche
4th - Go to the buffet and add tomatoes, red onions, lettuce, dill pickle chips, relish, guacamole, bacon, onion straws, roasted peppers, chili, arthichoke hearts and jalapenos to your liking.
5th - Add Mayo, Ketchup, Dijon Mustard, Regular Mustard, 1000 Island, or BBQ Sauce.
You can add fries or homemade potato chips or shredded onions as a side order along with any other two side orders from our menu planner. Add shakes or root beer floats to the menu and you've got a unique party that will be talked about by all your guests. It's a Hamburger Patty gourmet event. There is a 50 person minimum. Call for a custom menu and pricing.